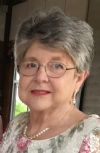 Pauline Scogin Bostian
August 27, 1945 - June 10, 2017
Stephenson-Dearman Funeral Home
943 Highway 425 North
Monticello, AR 71655
Map to Funeral Home
Stephenson-Dearman Funeral Home
943 Highway 425 North
Monticello , AR 71657
6/15/2017 from 6:00 to 8:00 pm

Gathering of Friends & Family
Stephenson-Dearman Funeral Home
943 Highway 425 North
Monticello , AR 71657
6/16/2017 at 10:00 a.m.
Map to Service Location


Green Hill Cemetery
Greenhill Rd
Wilmar, AR 71675
Map to Interment Location
Pauline Scogin Bostian, age 71 of the Green Hill community, passed away Saturday, June 10, 2017 at her home. She was born August 27, 1945 in Drew County, AR to the late Garvin E. and Beatrice Miles Scogin.

She was owner and operator of Bostian Accounting Service and a member of Ebenezer Baptist Church in Warren. Pauline enjoyed reading and traveling, especially to see family. She loved watching her grandkids play ball. One of her biggest joys was attending church with her family and preparing and sharing a family Sunday dinner afterward. She was a giving person who ministered to family, friends and those in need. In addition to her parents she was preceded in death by an infant daughter, Kelli Ann Bostian; two brothers, David Scogin and Raymond Scogin; and one sister, Betty Hammers.

Survivors include her husband of 54 years, Bobby Wayne Bostian of Monticello; one son, David Bostian and wife Tina of the Green Hill community; one daughter, Susan Seal of Crescent Springs, KY; seven grandchildren, Shane, Erica, Liz, Joe, Christine, Adam and Sam; one brother, Vernon Scogin and wife Ann of Claremore, OK; one sister, Merle Melancon and husband Al of Vicksburg, MS; and a sister-in-law, Glenda Scogin of Monticello.

Funeral service will be 10:00 a.m. Friday, June 16, 2017 at Stephenson-Dearman Chapel with burial to follow in Green Hill Cemetery. Visitation 6:00-8:00 p.m. Thursday evening at the funeral home. Online guestbook at www.stephensondearman.com.