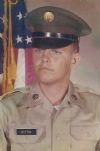 Richard A. Griffin
September 6, 1949 - May 7, 2017
Stephenson-Dearman Funeral Home
943 Highway 425 North
Monticello, AR 71655
Map to Funeral Home
Stephenson-Dearman Funeral Home
943 Highway 425 North
Monticello , AR 71657
5/9/2017 from 6:00 to 9:00 p.m.

Gathering of Friends & Family
Stephenson-Dearman Funeral Home
943 Highway 425 North
Monticello , AR 71657
5/10/2017 at 11:00 a.m.
Map to Service Location


Union Ridge Cemetery with Military Honors
Midway Rt Rd
Monticello, AR 71655
Map to Interment Location
Richard A. Griffin, Jr., age 67 of Monticello passed away Sunday, May 7, 2017 at Drew Memorial Hospital in Monticello. He was born on September 6, 1949 Dermott, AR to the late Richard Anthony Griffin, Sr. and Zola Bee Scroggins Glennon. Other than his parents he was also preceded in death by his first wife Linda Hudgens Griffin; one brother, Glen Cowan and his step-father M.L. Glennon.

He was owner/operator of Griffin Heating and Air for thirty-seven years and was a United States Army veteran of the Vietnam War. He was a farmer and cattleman and enjoyed hunting and fishing. Richard was a hard worker, devoted to the people he served. He was a loving husband, daddy, Papaw and loved doing things with his family.

Survivors include his loving wife, Ruthie Reap Griffin of Monticello; two sons, Keith Griffin and Kevin Griffin and wife Kelly all of Monticello; two step-sons, T.J. Hammock and wife Trina and Jay Hammock and wife Colleen all of Monticello; one stepdaughter, Becki Knight and husband David also of Monticello; eleven grandchildren; four great-grandchildren; two brothers, James Griffin and wife Della of Monticello and Billy Joe Griffin and wife Vicki of Sand Hill, MS; two sisters, Betty Timmons of Dumas and Rose Stephens and husband Carl of Taylor, AR.

Funeral Service will be 11:00 a.m. Wednesday, May 10 at Stephenson-Dearman Chapel with burial in Union Ridge Cemetery with Military Honors. Visitation will be from 6:00-9:00 p.m. Tuesday evening at the funeral home. Online guestbook www.stephensondearman.com.